Venice Paparazzi will be on the scene at Brennan's on St. Patrick's Day.  Join us and get your St Patty's Day photo from one of our awesome photographers!   All photos courtesy of Brennan's!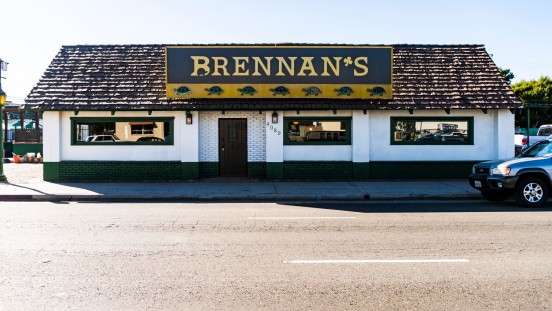 Brennan's is back, the beer is ice cold, and the St. Patrick's day shenanigans are right around the corner!
In true Irish style, Brennan's will be kicking St. Paddy's day of  at 6:00 a.m., and it will be a full 20 hours of unbridled revelry,  green beer, live music,  food specials, and a whole lot of cool folks have a spectacular time!
Continuing in the rich tradition of past St. Patrick's days at Brennan's, this party promises to be one for the ages.
It will be going off !  Both parking lots will be tented, the bean bag game will be highly competitive, and the turtles will be swimming around watching people watch them.
If you have not been to the newly remodeled Brennan's, perhaps do a pre game scouting mission to check it out!  The food is out of this world, the staff is ultra cool, with many local folks in the ranks, and  both the inside and out of the place is clean and polished like a vintage car at a show.
See you there, beer in hand!
Good times from 6am – 2am!
No cover until noon!
$10 cover gets you in all day and all night.
Five great bands.
Live Music from Dair Band, Dueling Pianos, Git'er Done, DJs etc.
Soft Pretzels
Corned Beef
Loaded Tots
Brats
Green beer
Jameson
Car Bombs
A rowdy good time
Brennan's, 4089 Lincoln Blvd, Marina del Rey, CA 90292  |  424.443.5119
For more info or events, visit brennansla.com/#events