Each year on Veterans Day, our nation takes the day to honor and remember  those who have served in the United States Armed Forces.
As well, every day of the year, in thousands of locations around the country, people pay homage to our veteran's at local war memorials, monuments, statues, and walls.  In Venice, we have our own wall dedicated the POW's that never made it back from Vietnam. The "You Are Not Forgotten" mural is located on Pacific Avenue, south of Rose Ave.
Here is a little history on the "You are not forgotten" mural by the Venice Chamber.
In 1994, in Venice, California, artist Peter Stewart's dream was brought to fruition. Stewart was a Vietnam veteran, who had served as an ordinance man aboard a Navy carrier on Yankee Station. Peter conceived of a mural that contained the names of every POW/MIA from the Southeast Asia conflict. The names would be listed in alphabetical order by state, including names from three Allied nations. The centerpiece would be five representative troops from America's 20th century wars. The individuals that posed for those pictures, in period uniforms, were all Desert Storm veterans. Peter and a tiny handful of Vietnam-era veterans and POW/MIA families brought the project to its completion and unveiling in 1994, on a tiny budget and with genuine love.  Sadly, in 1996, shortly after the mural's completion, Peter Stewart passed away.
The mural gets tagged in 2016!
In 2016, a tagger, named Angel Castro, who goes by "Liter," vandalized the wall along with his crew, comprised of Pheb, Noner and Snake.  Stay Classy!
The Venice community came together to get the wall fixed up and Venice Paparazzi was on the scene May 29, 2017 to document the unveiling!  View event pics below!
Mural is restored in 2017!
Here is a message from the Venice Chamber of Commerce
Members of the community celebrated the unveiling of the newly restored POW/MIA Mural in Venice on Monday, May 29, 2017. Venice Chamber President George Francisco, Venice Chamber in Action Committee Chair Kelly Layne, SPARC founder Judy Baca, and Council member Mike Bonin all gave moving speeches and thanked the community for their support. The mural, which honors prisoners of war and those missing in action from the Vietnam War, was vandalized during Memorial Day weekend 2016.  
The Venice Chamber of Commerce led the fundraising campaign that funded the restoration by SPARC, receiving grants from SoCal Gas, Snap Inc., Venice Neighborhood Council, and Councilmember Mike Bonin, as well as donations from numerous community contributors. The mural restoration planning team was awarded a certificate by the City of Los Angeles to thank them for their efforts in coordinating the restoration project.
.
View 2017 event photos by Venice Paparazzi. 
.

In this photo: The restoration team of artists, interns, and volunteers led by Sparc's Project Manager, Carlos Rogel, recovered the missing names and restored the mural back to it's original vibrancy.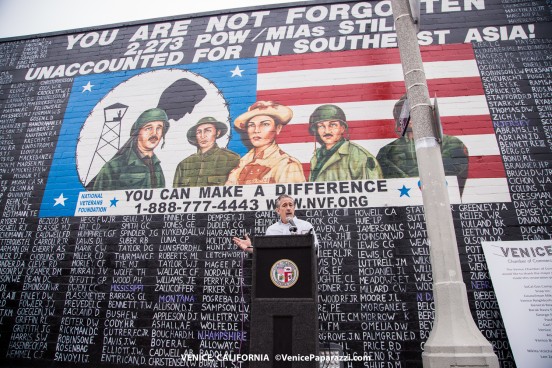 Venice Chamber of Commerce's President George Francisco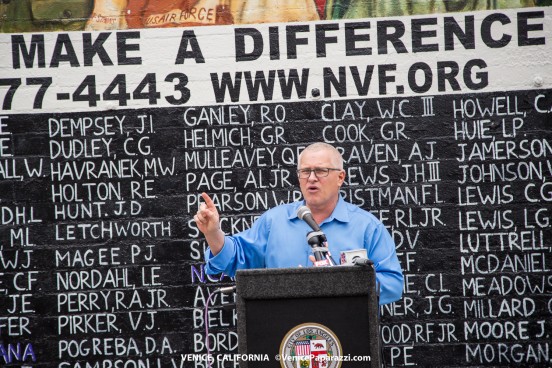 11th Councilmember Mike Bonin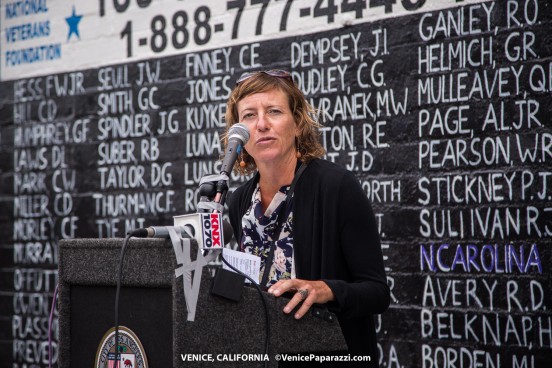 Venice Chamber in Action's Kelly Layne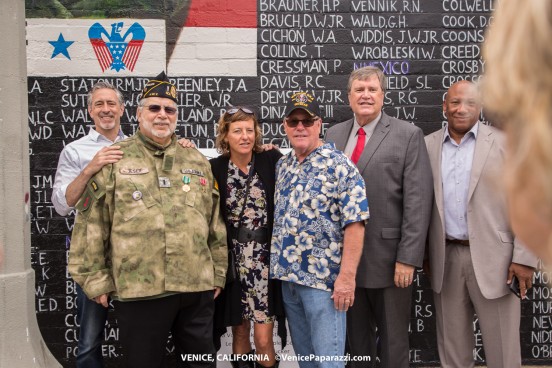 The mural restoration planning team (George Francisco, Kelly Layne, and Andy Layman) with Mike Harriel from Socal Gas Company, who provided a grant that helped launched this effort.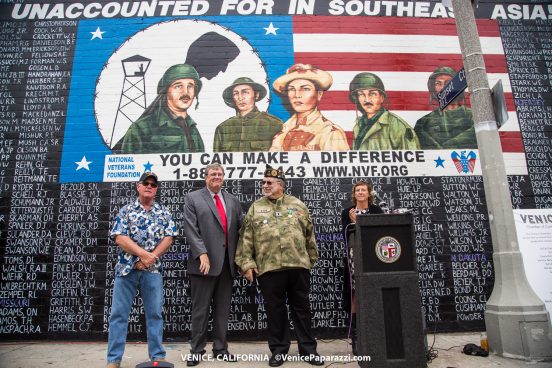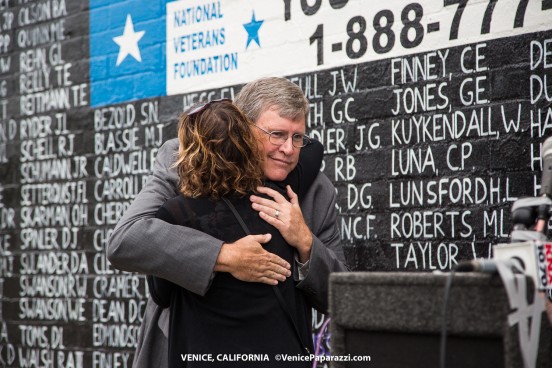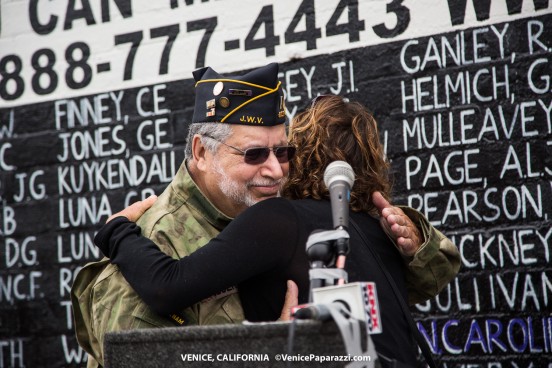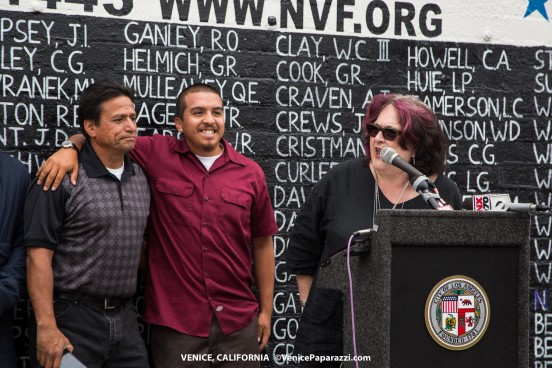 Sparc's Judith F. Baca with the team artists who worked on the Pow/MIA mural