Venice Paparazzi hosted a super fun photo booth at the 19th Annual James' Beach & Canal Club Halloween Party.  The event includes 2 Live DJ's, Patron Shots, drink specials, a $500 gift card costume contest, and a whole lot of beautiful people.   Check out the party pics and awesome Halloween costumes below below by Venice Paparazzi!
Clueless – Winners of the $500 gift card costume contest! Congrats!
James' Beach's and Canal Club's Daniel Samakow and Douglas.  The future looks bright!
Kaycee and crew
James' Beach fun and awesome staff
In this photo:  Venice Paparazzi's Edizen, Alex, Lina and Irina!  Need event photographers or a custom photo booth for your event?  Hire Venice Paparazzi.  www.HireVP.com
.
View all fun pics by the Venice Paparazzi crew.  
View slideshow below or click here for online gallery! 
.
ABOUT THE HOSTS:

Canal Club:  The Canal Club is the brainchild of local owners James Evans and Daniel Samakow. Within our brick walls lies a celebration of Venice creativity through food and design, featuring Frank Gehry's wondrous interior and Chef Nicholas Hale's inspired interpretations of Southeast Asian and Latin Cuisines. With an emphasis on sustainable and local ingredients, Chef Hale's sushi and wood grill selections are complimented by our extensive collection of hand-picked local craft beers and a wine list featuring some of today's most exciting young winemakers. A large selection of craft spirits makes for exciting flaming volcano bowls and signature margaritas that connect with The Canal Club's beach locale and vibe. The daily Happy Hour is among the best in Los Angeles.  Happy Hour from 5-7pm, Daily . Eat: 5–10pm, Daily   |  Drink: 5-12pm, Su-Th   |   Party: 10pm-2am Fri/Sat in our new Late Night Lounge.  Canal Club:  2025 Pacific Ave.  Venice, CA 90291    www.canalclubvenice.com.  Join Canal Club on facebook.com/CanalClub
.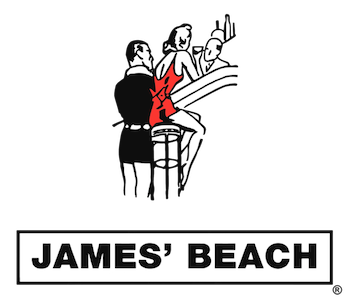 James' Beach celebrates 20 years!  In September 2016, James' Beach will be celebrating it's 20th Anniversary! While they are just shy of legal drinking age, that hasn't stopped them from becoming a late-night favorite for Venice Beach locals and visitors alike, all the while becoming a culinary destination and pop culture landmark along the way.  Help them celebrate by sending them some words, pictures, or even video if you have it, of your favorite James Beach memories!  They will be including some of their favorites in a special 20 Year Anniversary Book that will feature additional James' Beach history and throwback recipes from their last twenty years in Venice Beach.   Send them your stories to : [email protected].   James' Beach:  60 North Venice Blvd., Venice, CA 90291.  www.JamesBeach.com.  Join James' Beach on facebook.com/JamesBeachVenice
...____